News
Commander Discovery of the Week
posted on 03/05/17
<P>We recommend checking out the Facebook group, <I>MTG Commander Discovery of the Week</I>. It's in its infancy, but it's shaping up to be fun and useful resource for Commander players. You can find it at <A HREF="https://www.facebook.com/groups/146606475828423">this link</A>.</P>
---
Dragons of Tarkir: The Hollywood Experience
posted on 04/01/15
Dragons of Tarkir makes me feel a little bit like a Hollywood Movie Executive. I imagine my pitch for the third movie in a trilogy: "In this installment of Tarkir, Sarkhan travels back in time and saves Ugin. And when he saves Ugin, it gives rise to a new Era of Dragons. It's going to be like Groundhog's Day meets Dragonheart." The Studio Executive replies, "Wait won't these dragons either eat you, shoot lightining at you or turn you into their subject as they became Dragonlords." I think about this for a good minute and say to myself yeah, I am like a Butterscotch Krimpet to a Dragon. I have got to come up with a good thing to explain why Sarkhan won't be eaten. My answer is, Sarkhan is Unbroken, that with Sarkhan any Dragon can enter the Battlefield. The Studio Executive is only half satisfied with my answer, he brings up his next question, so only one person can talk to these Dragons? My mind wonders did I forget to mention the Shaman? No, Sarkhan is not the only human who can communicate with the Dragons, we also have a Human Shaman, a Dragon Whisperer. The Studio Executive looks pleased but still not quite satisfied. He pulls out the famous Executive question, "Who do you see in this picture?" My mind goes back to my initial pitch and I tell him Bill Murray and Sean Connery. The Studio Executive is thrilled. I am going to make Dragons of Tarkir, the biggest of the Trilogy. Even without explaining to the Executive that Dragonlord Otujai is hexproof.


---
The Magic the Gathering of the Holiday
posted on 12/16/14
Perhaps this Christmas you have asked for The Power Nine or an unopened Booster Pack
from Summer Magic. A true sign that you may still believe that reindeer know how to
fly. Or as a joke every year your write down Black Lotus Alpha Version on your
Christmas List. Perhaps, you have even watched the video of someone pulling the rare $27,000
card on Geek.com
Then aftwerwards rationalized that the Black Lotus Alpha Version is only half the price of the Pikachu
Illustrator and one twentieth the price of the Yu-Gi-Oh Japanese Blue Eyes Ultimate Dragon with Armor.
The Yu-Gi-Oh card that sells for half a million dollars. Which is a sign that you not only believe that
Reindeer can fly but that Santa and the Easter Bunny are a secret holiday hit squad.
But the truth is you would appreciate a fat pack full of boosters to unravel under the Christmas tree. The
best presents are those in foil packs, right? Well in case that doesn't quite work out, we have your Plan B.
revealed you could get the ten best cards from Magic2015 for less than $25. Which is good news for those of you who
can muster up enough disbelief for Planeswalkers but not Santa.
---
M15 Review
posted on 07/15/14
We've seen some interesting events transpire story wise with our favorite (and not-so favorite) Planeswalkers and Magic 2015 is looking strong for new cards. Not only do we have 6 planeswalkers in Magic 2015, 4 of them are brand spanking new. A 6 card cycle of avatars at mythic which represent the different planes that Magic has visited over the more recent years, including New Phyrexia with this monstrosity:
"Elesh Norn inspired T-Rex death…thingy? Yes please."
We also have more slivers! The design team ended up deciding that they would give the sliver players a bit more love for standard before the bulk of them rotated out in the fall. What's most exciting is that we got a new 5-color sliver legend and a new land to help support the hive:
"I for one accept our new Sliver Overlord…I mean Hivelord."
The new sliver cards are definitely cool, but what I'm most excited about is the cycle of legendary creatures each of the five colors received. Two of them are legends we have seen before, but with brand new cards to represent them:
"Looks like those two are looking for a fight"
These are only a preview of all the fun things Magic 2015 has to offer. I haven't even gotten to the designer cards in this post, but if you look at Ob Nixilis, You will not something odd where the flavor text is. As I mentioned in an earlier post, Magic 2015 will be doing something brand new where if a card is designed by an individual or say the magic community, they receive a designer credit where the flavor text would be. I implore you to check out dailymtg.com and gatherer.wizards.com to check out all the new stuff! I hope you enjoyed this review of Magic 2015 and I can't wait to see what's in store for the rest of the year. See you soon!
---
Conspiracy, a set specifically designed for a Multiplayer Draft
posted on 05/24/14
The amazing thing about Magic is how each new set manages to energize and challenge it's players. Conspiracy is not an exception but rather exceptional set. It's being described as a Multiplayer Draft Set. It's focus is on the draft and offering a better multiplayer experience. Conspiracy offers three new mechanics each designed to enhance multiplayer experience. Dethrone attacks the player with the most life, allowing other players to gain ground and possibly extend the game. Will of the Council allows you to have a multi-option vote. Imagine how your group will vote on spells? Did I mention each player gets a vote but there are ways to earn more votes? Parley requests each player reveal their top card and for each non-land revealed each player gets to draw a card. Something positive happens for each player. These mechanics require you to have the ability to understand the dynamics of the group rather than the individual. But what about the draft part of that Multiplayer Draft Set description? The answer is Conspiracy is a medium size set. It only has 210 cards: 80 commons, 60 uncommons, 35 rares and 15 mythic rares. This increases the number of same name cards you can acquire. Team those multiple same name cards up with one of those Conspiracy cards and you can change the effectiveness of that card. It's as if each card you open in a booster pack can be a valuable card. It all depends on the other cards you draft. Sound appealing?
---
Upcoming in store events at Digital Ferret/The MTG Place
posted on 05/24/14
May 25th at 3 PM – Journey into Nyx Game Day ($5)
May 27th at 4 PM - Casual Play (Mostly Commander)
June 3rd at 4 PM - Casual Play (Mostly Commander)
June 6th at 7 PM - Conspiracy Draft
June 8th at 3 PM - Conspiracy Draft
June 10th at 4 PM - Casual Play (Mostly Commander)
June 13th at 7 PM – Commander League (Season 5, Game 1 of 5)
June 15th at 3 PM - Conspiracy Draft
June 17th at 4 PM - Casual Play (Mostly Commander)
June 22nd at 3 PM - Conspiracy Draft
June 24th at 4 PM - Casual Play (Mostly Commander)
June 27th at 7 PM – Commander League (Season 5, Game 2 of 5)
June 29th at 3 PM - Conspiracy Draft
July 1st at 4 PM - Casual Play (Mostly Commander)
July 6th at 3 PM - Conspiracy Draft
July 8th at 4 PM - Casual Play (Mostly Commander)
July 11th at 7 PM – Commander League (Season 5, Game 3 of 5)
July 12th at 12:01 AM – M15 Midnight Prerelease ($25)
July 13th at 3 PM – M15 Prerelease ($25)
July 15th at 4 PM - Casual Play (Mostly Commander)
July 22nd at 4 PM - Casual Play (Mostly Commander)
July 25th at 7 PM – Commander League (Season 5, Game 4 of 5)
July 29th at 4 PM - Casual Play (Mostly Commander)
August 5th at 4 PM - Casual Play (Mostly Commander)
August 8th at 7 PM – Commander League (Season 5, Game 4 of 5)
---
Announcing GVYJTHQXGR
posted on 03/04/14
What if everything you knew never was? What if your allies were really enemies? What if everything you knew about Magic: The Gathering was a lie? This June, you could give in to the…Conspiracy.


"Little did they know, they were secretly being photographed."
Magic: The Gathering is releasing its first ever multiplayer focused set, Conspiracy, with new cards bent on putting your entire view of multiplayer play into question. The set will be a 210 card set, "designed to be drafted with six to eight players who then split into groups of three or four players for free-for-all multiplayer games."-WOTC. This set looks to be very exciting indeed, despite the small amount of information we have about it. According to the release announcement (found here), It will be available on June, 6th, 2104 for $3.99 MSRP for a 15-card Booster pack, with a display box containing 36 Booster packs. Conspiracy will feature 65 brand new cards, 52 of which will be legal in Legacy and Vintage tournaments (Similar to the legality of new cards printed in Commander Pre-constructed decks). Release event promos will also be given out, including this doozy of an angel:


"
Choose your Fate"
This set is looking to be quite interesting, with other cards directly dealing with drafting and being drafted, like Cogwork Librarian:


"Why wait indeed…"
Whether you believe in conspiracies or not, none can doubt the power of subterfuge, politics and misdirection. Even Wizards of the Coast knows its power, originally posting the information on Conspiracy in a coded cipher, teasing us with information we had to work for in order to figure out. Magic is changing things up this summer with Magic: The Gathering –Conspiracy and is sure to be loads of fun for you and your friends. All that remains is one question, what will you believe?
---
Upcoming Events
posted on 01/22/14
Born of the Gods creeps ever closer, and we here at TheMTGPlace would like to let all of our wonderful customers out there know that we also have a Brick & Mortar location based in Philadelphia, Pennsylvania at 732 S. 4th St. We will be running prerelease, release, game day and Buy-A-Box promotions for Born of the Gods. Feel free to stop in and say hello and play a game or two of magic with us! The store front's name is Digital Ferret and if you would like more information please feel free to email us at sales@themtgplace.com. Here's whats going on:

Born of the Gods Pre-release:
January 31st at 11:59 PM - Born of the Gods Midnight Pre-Release (Sealed)
February 1st at 3 PM - Born of the Gods Pre-Release (Sealed)
February 2nd at 3 PM - Born of the Gods Pre-Release (Sealed)

If you are interested in attending any of the prerelease events, please email us stating your name, event choice, contact information and Heroic Path (Explained below). Use the following example as a guide:

Smitty Mcsmithers
January 31st at 11:59 PM - Born of the Gods Midnight Pre-Release (Sealed)
Yolodolo@Itsmylife.com
My Heroic Path: Black
What Do I Get?

The Born of the Gods Prerelease presents players with a special opportunity to open a Prerelease Pack and continue their journey down the Hero's Path. There are five Prerelease Packs to choose from; each color has a Heroic Path: White – Lead, Blue – Outwit, Black – Dominate, Red – Conquer, and Green – Thrive.

Each Prerelease Pack contains items designed specifically for the chosen Heroic Path.

2 Born of the Gods booster packs
3 Theros booster packs
1 seeded booster pack
1 promo card
1 Master Your Destiny activity card
1 Spindown™ life counter
1 Hero's Path welcome letter
1 Hero Card
For this event, players may use the promo card included with the Prerelease Pack in their tournament deck.

The entry fee is $25 and also includes a free booster pack after the tournament to each participant plus higher prize payouts to the players with the following records after 4 Swiss rounds:
4 Wins 0 Losses
3 Wins 0 Losses 1 Draw
3 Wins 1 Losses
Booster packs will be awarded based on final player attendance. All prizes are awarded after the pre-release, or upon a player dropping from the tournament. Maximum seating is 20 players per event. If interested in attending please let us know which event (or events) you are interested in and your color preference. You can reach us at sales@themtgplace.com
We also have a bustling Commander community that is fanatical about fun and fair play, meeting every 2 weeks during the current season for Commander League games. Each season is 5 games long, and scores at the end of the season are calculated with each player's best 4 out of 5 games. We do give out small prizes and a major prize at the end of each season, but mostly its all about enjoying the game. Whether for any of the Born of the Gods events, to play some casual games with us or play in the Commander league, we would love to have you come by. Until next time folks!
Upcoming in-store events at The MTG Place/Digital Ferret

January 31st at 7 PM - Philadelphia Commander League (Season 3, Game 2 of 5)
January 31st at 11:59 PM - Born of the Gods Midnight Pre-Release (Sealed)
February 1st at 3 PM - Born of the Gods Pre-Release (Sealed)
February 2nd at 3 PM - Born of the Gods Pre-Release (Sealed)
February 7th at 6 PM - Born of the Gods Release Day (Booster Draft)
February 9th at 3 PM - Born of the Gods Release Day (Booster Draft)
February 10th at 3 PM - Casual Play (Commander, Legacy, etc.)
February 14th at 7 PM - Philadelphia Commander League (Season 3, Game 3 of 5)
February 28th at 7 PM - Philadelphia Commander League (Season 3, Game 4 off 5)
March 2nd at 3 PM - Born of the Gods Game Day (Standard)

Buy A Box Promotion:
Buy a booster box of Born of the Gods for $105 and get a foil Fated Conflagration promo card (while supplies last)
---
Changes on the Horizon
posted on 01/10/14
An announcement on Monday has the Magic community buzzing with conversation. As of M15 (This year's core set expansion) Magic: The Gathering's card frame is changing again, the last sweeping change to the frame being the release of 8th edition and the frame we see on all new cards printed now. Here is a picture of the new frame on an M15 card: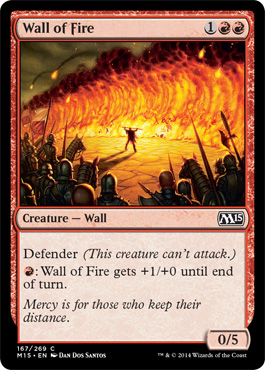 "I saw me a burning Wall of Fire. The cries rang out as the frame moved higher..."
As you can see, the bottom frame is different and is more reminiscent of the bottom of a planeswalker card, which is surely not accidental. Also, if you look closely, the black border surrounding the card is slightly thinner than normal. In the announcement article on Dailymtg.com,
(http://www.wizards.com/Magic/Magazine/Article.aspx?x=mtg/daily/feature/281) it was also stated that the font on cards moving forward would now be a custom one developed by Wizard's, rather than an already existing font. Rare and Mythic Rare cards however, will be receiving yet another upgrade as pictured on this card, which is also the card designed by the Magic Community in the last You Make The Card contest hosted by Wizard's of the Coast: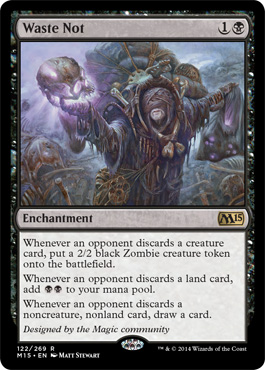 "Waste not, Want Rot…Not…I'll stop I promise."
Yes, rares and mythics will have a nice shiny Holofoil stamp imposed bottom-center on the card. A designer credit where applicable will also be featured in place of flavor text, hinting at future contests and reprints of player-designed cards. With exciting news and big changes on the horizon, Magic is shaking things up yet again. Tune in next time for updates on Born of the Gods and upcoming products that are sure to delight, inspire and leave us wanting more... and wasting not.
---
Crashing through the Snow
posted on 01/02/14
Spoiler season is upon us once again with Born of The Gods, and this set is starting out with a bang, or rather, with a crash: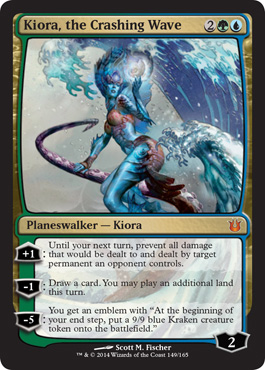 "Release the Krak-!, I'm sorry I just had to say it."
An exciting new planeswalker greets us as the first major spoiler of Born of the Gods, Say hello to Kiora, the Crashing Wave! At 2UG, Kiora joins a cast of planeswalkers desired by competitive and casual players alike, but will she make the cut upon her release? With three very relevant abilities: pseudo self-protection, card advantage, tempo and an ultimate that puts opponents on a very short clock, all the signs are there for Kiora to be an all-star, but question remains: Will Kiora crest the waves and become a major player, or sink slowly into the depths? Only time will tell!
Born of the Gods at the very least entices us with a new juicy planeswalker, but spoilers go into full swing on January 13 on Wizard's of the Coast's website, Dailymtg.com. If you enjoy spoiler season as much as I do, be there every night at 12:01 A.M EST to be ahead of the pack. Who knows? Perhaps a card get spoiled that will be a perfect addition to a deck you've built, or a powerful new card is revealed that turns magic upside down. If you enjoy waiting until prerelease to see all the cards, that's fun too! Whatever the case, Magic: The Gathering is always growing and it would be a mistake to miss out! See you all next time, and until then, happy holidays from Themtgplace.com, Where the Magic happens!
---